30 August: 10-year anniversary of the Popular Consultation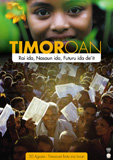 This year marks the 10-year anniversary since the Popular Consultation was held in Timor-Leste (formally known as East Timor) on 30 August 1999. To commemorate this important anniversary, UNMIT is assisting the Presidency with a national unity campaign reflecting on the courageous achievement of the Timorese people to exercise their right to self-determination in 1999, linking this with the spirit required to building lasting peace and prosperity in Timor-Leste.
To promote the theme of One Land, One Nation, One Future, radio and television programmes are being broadcast and banners and posters displayed across the country. UNMIT is helping to share the story of how the United Nations conducted the 30 August 1999 ballot by offering a public photographic exhibition hosted by President José Ramos-Horta at the President's Palace starting from 27 August. The photos displayed help tell part of the story of the events of 1999. 
Special Photo-of-the-Day Edition
Special edition of the Commission for Reception, Truth and Reconciliation (CAVR) chapter on self-determination- preface by José Ramos-Horta